Wood kitchens have been popular with Americans since the early 1950's, when many were making the transition from metal cabinets to wood. Woods are unique in that they come in many different stains and styles. Though, they come in many varieties. Particular stains will date a kitchen quickly, for example golden oak kitchens peaked in the 80s, cherry and orange maple in the 90's and then espresso in the early 2000s. They look of their time, something to consider when thinking of going with a wood stained kitchen. Lots of recently designed wood kitchens, have managed to sidestep the main issue with traditional ones: dated stains and finishes that are intended to create a "rich" look, like cherry, golden oak or espresso but tend to look heavy, dark and overly formal. Right now, the wood stain that will be associated with this trend movement is anything grayed, weathered, or "reclaimed". Classic white kitchens have been trending the past decade, so naturally there are those who are looking for something new and different.
New ashy, unstained wood tones are popping up in kitchens everywhere right now, and they might have a little more staying power, and here's why: They are lighter, airier and more natural looking, which has broad and enduring appeal. They are also much less likely to be combined with busy earthy countertops and tile which is what made the dated warm wood kitchens so heavy and hard to live with. In the ideal current trend, there is a beautiful balance of natural wood and crisp whites tones.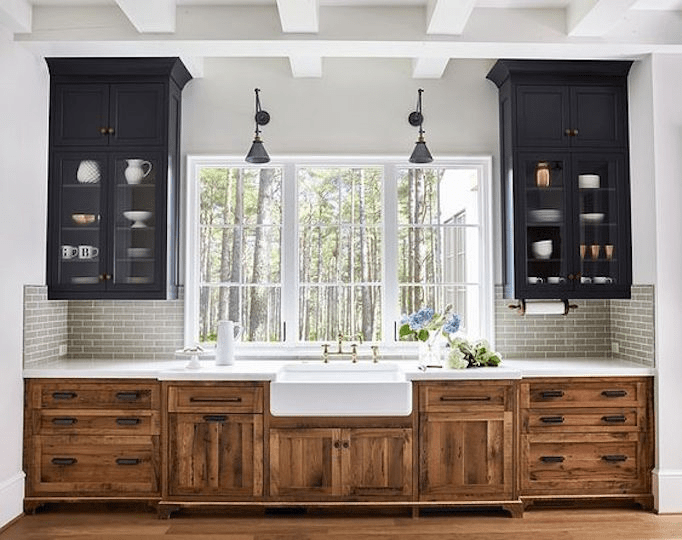 Because of technological improvements, wood finishes don't yellow the way old lacquers and alkyds did. These new natural wood tones are not just a passing trend, but a new classic. They are prettier because you can clear coat them without creating a warmer yellow, so the wood looks as fresh as when it was cut. It's the same with the current natural unstained oak floors. They are just as classic and neutral as a pale maple or medium brown walnut. It's when they are grayed or overly rustic that they are more faddish and eventually dated.
Homeowners are looking for fresh, light and casual, and natural lighter natural wood tones fits this perfect, while still providing warmth and earthiness to a light and bright space. The new wood finishes are grounding but not stuffy or heavy
If a wood kitchen is your thing, natural unstained woods are what's trending. Fresh whites and soapstone are classics trends. Look for a truly natural looking finish and beware of anything with a gray or taupe cast, or anything that looks overly rustic, these are part of the gray trend and will soon look dated. The more natural the better, keep it simple. After all, the goal should be to only design your kitchen once and love it forever.